I just got back home from dinner and dessert. I went out with my bubb and two of our good friends; minji and kristin.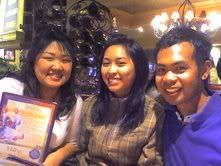 We decided to try something new for dinner, and ended up eating at mimi's Cafe down in Rowland Heights.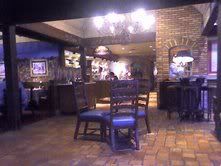 I've only eaten there once and I don't quite remember what they served, so it was very exciting. Me and bubb got there first and waited for the ladies to come. Once we were seated, we looked through our menu, and to our surprise, it looked the same as any other restaurants. I ended up ordering a regular cheeseburger and bubb got quiche. I'm not a big fan of quiche though. I didn't finish my burger but I ended up stealing bubb's watermelon and canteloupe. It was so good!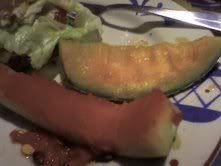 We sat next to a mirror, so that was great - haha!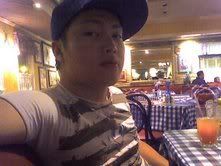 After, since it was still a bit early to go home, we decided to go have some dessert at Boba Time.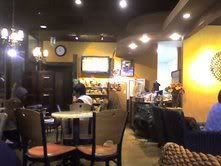 It used to be called Red Mango, I like that name better because I'm a big fan of mangoes! It was kind of wierd because there were a lot of people in there. It's a small place owned by a family and I guess they're making a lot of business. Good for them. Me and bubb are always there to get dessert. Minji and bubb got some yogurt with mango, rice cake, oranges and lychee. It was good.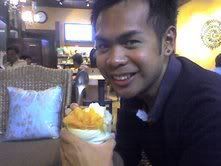 Kristin was telling us we're special because she missed Grey's Anatomy for us. Kris and I ended up sharing some Iced Shaved House Special without Strawberries and Kiwis. I don't like strawberries and kiwis.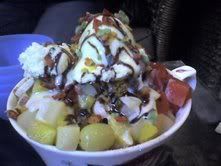 Kristin ended up liking the yogurt better. She said she doesn't like red beans. I don't either, I forgot to let them know not to put it. After about an hour of catching up with one another, we called it a night. I have work tomorrow morning and Kristin had some project to finish. We made plans to hang out again, maybe go to Disneyland. I miss them. Thursday night is our night!

Now, me and bubb are back home... me on the computer, bubb on the laptop. We're really excited about this new blog, it's kind of cool to have one again. Hopefully I can keep up with it because we're always so busy with recreational stuff.

Well this is my first official blog, and it's about to end. I have to go get my massage now and sleep. Til' next time - Night peeps!