It's about twelve o'clock midnight and I just finished playing scrabble online with bubb and deuce. It's an addicting game. We usually play the scrabble gameboard almost everynight. But since I started working again, I've been missing in almost every game.

I went to work today. I was about ten minutes late because there was an accident on the 57 freeway, not to mention, it was also raining. The weather is so wierd these days, one day it's sunny, then it's windy, then it's raining. I was so bored at work, so I started thinking about my sister's debut this August. I am excited about that. I'm helping my mom with the planning. I'm in charge of the decorations. At first, she wanted a Paris theme, but then that was way too hard to incorporate "Paris" into the decorations without it being expensive. So then I thought about making it a "More Than Words" theme, since she's all about poems and lyrics. The main color she chose was lavender/purple. Then to contrast that color, we thought of either white with gray or white with black. Im leaning more towards the black and white and lavender. As for the centerpiece, I change my mind almost everyday I think about it. I know I want to use Orchids and Lilies since those are really girly and lavender appropriate. Either I want it in a bunch on vase, or floating upside down in a big vase (but then how are the guests supposed to take them home?). But then at work, I got inspired by this flower arrangement that I saw on some random table. It was nice. It had a plain white orchid with some white and black twirly vines (or stems or twigs?) and it was in a slim square vase about two feet in height. It was interesting. It was like "I'm lost in an imaginary forest" Well that's what I thought anyways when I saw it. I'm goin to take a picture of it tomorrow. I have about three months to figure everything out, I think that's enough time. I just hope I won't procrastinate with it. Good luck - ha!

As with work, there's a lot to talk about but I'll leave that off for tomorrow... so I guess thats it for tonight. Til next time - night peeps!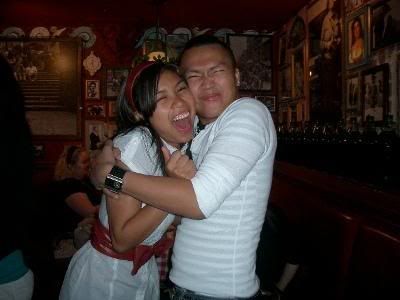 that's me and my sister on her 17th birthday. How times and looks change in a year.